Početkom 2015. godine u svetskim modnim krugovima odjeknula je vest da Frida Giannini, dugogodišnja kreativna direktorka modne kuce Gucci napušta ovaj modni brend. Pre deset godina šarmantna Rimljanka je sa neverovatnom lakoćom ponovo oživela zaboravljenu krhku ženstvenost jedne od najmoćnijih italijanskih modnih imperija – GUCCI
In the begining od 2015. in fashion world braking news was that Frida Giannini, Gucci`s creative director will leave Gucci after Milan Fashion Week in February 2015. Ten years ago one Roman born girl with seductive smile FRIDA GIANNINI bringed forgotten FRAGILE & gentle FEMININE style that re-creates  the universe of one of the most powerful Italian fashon houses –  GUCCI.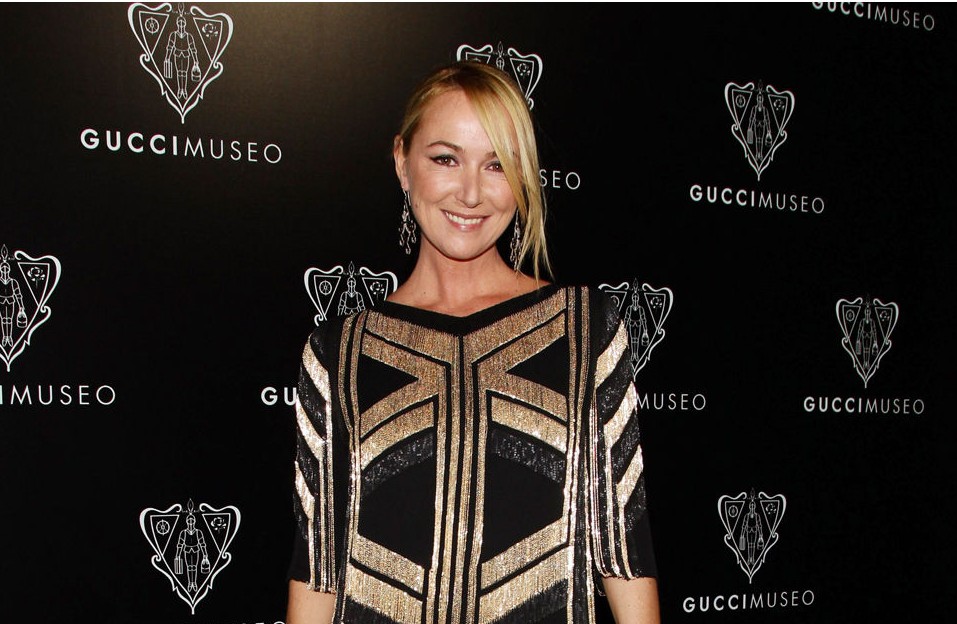 Ova izuzetno talentovana žena je svojom neverovatnom energijom za nepunih deset godina kreirala potpuno novi Gucci univerzum koji pored sjajnih modnih kolekcija uključuje različite dizajn koncepte, arhitekturu, dizajn enterijera, film, otvaranje Gucci Museo u Fireci i pionirske filantropske poduhvate kao sto je Chime for Change.
Fabulous & talented woman with incredible creative energy for almost ten years created brand new universe of Gucci beyond fashion and design, developing architecture, interior environments for Gucci's store concept, making of Gucci Museo in Florence & philanthropic ventures, including  Chime for Change.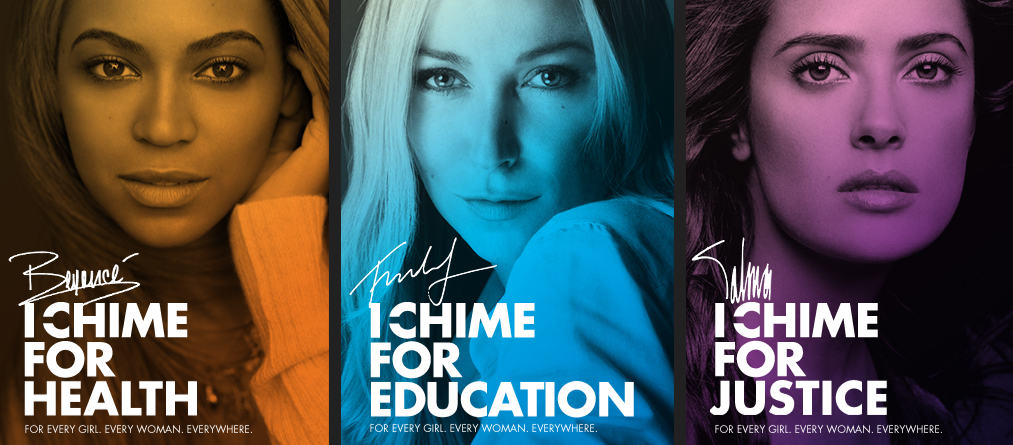 Archystyle Vam predstavlja neobičnu priču o modi, dizajnu i arhitekturi protkanu velikom ljubavlju i poštovanjem prema italijankoj tradiciji koja inspiriše budicnost.
Archystyle presents an unusual story about fashion, design and architecture interwoven with great love and dedication to beauty of Italian tradition that inspires future.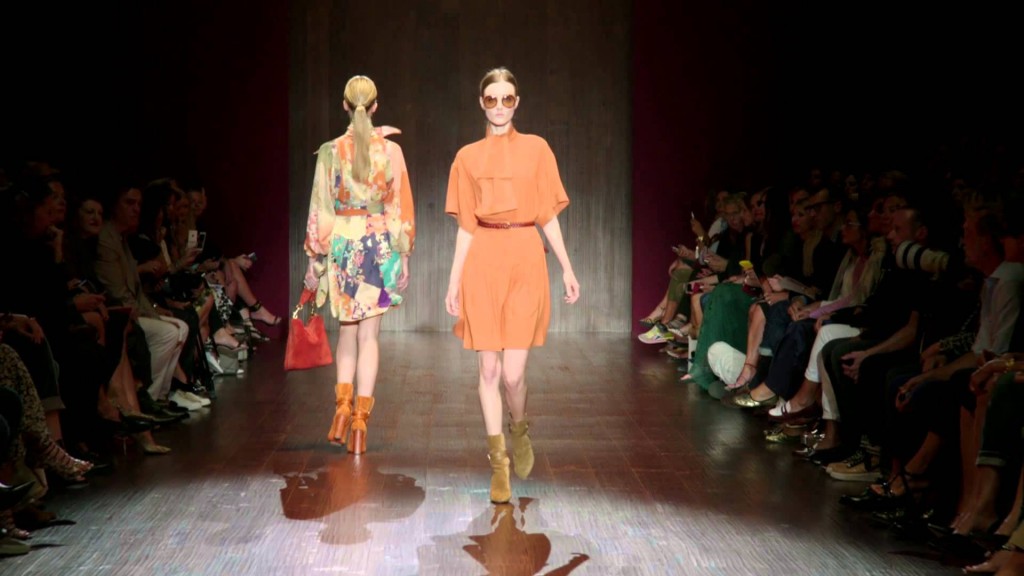 Frida Giannini je rodjena Rimljanka, manekenske figure i zavodljivog osmeha, koja  je uspela da se dokaže u modnom svetu za impresivno kratko vreme kao veoma talentovana modna dizajnerka, ali i kao izuzetno inteligentna, sposobna poslovna žena. Nova kreativna direktorka Gucci-ja imala je tezak zadatak da nakon vladavine neprikosnovenog Tom Forda preuzme krativnu palicu jednog od najluksuznijih Italijanskih modnih brendova.
Frida Giannini is Roman born girl, with a top-model figure & seductive smile, was able prove herself  to the fashion world in an impressively short time as a very talented fashion designer but also as a an extremely intelligent & capable businesswoman. As a new creative director of Gucci, Frida had a difficult assignment – after ten years of rule undisputed Tom Ford – she have to take creative stick of one of the most luxurious Italian fashion brands.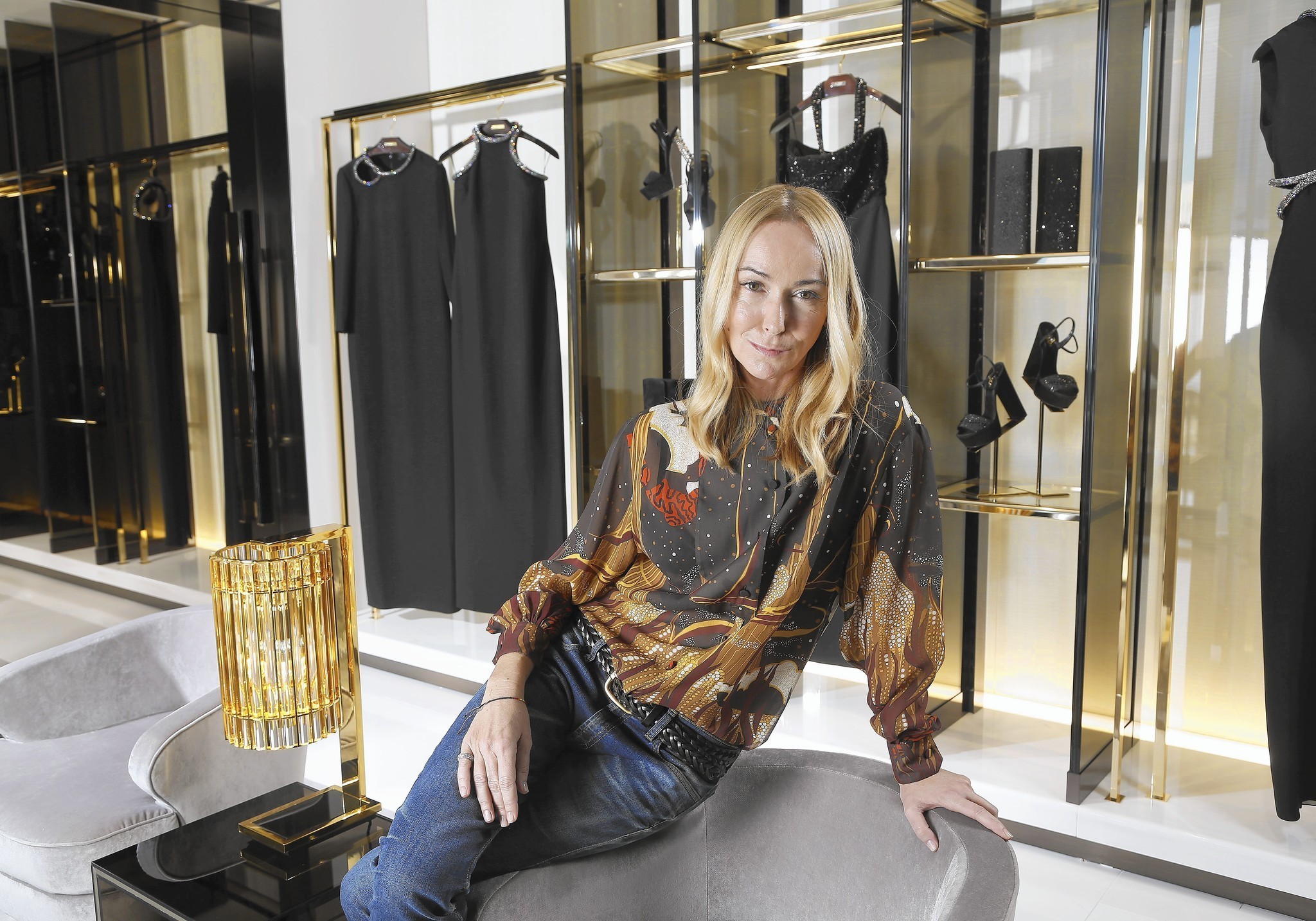 Talentovana ćerka arhitekte i profesorke istorije umetnosti, još za vreme studija na Rimskoj Modnoj Akademiji, vredno je radila je kao pomoćnik u maloj modnoj kući. Njena nesvakidašnja kreativna energija odiše zaboravljenom krhkom i nežnom ženstvenošću, tako da posle nekoliko  godina rada za modnu kuću Fendi, njen kvalitet prepoznaje najmoćnija italijanska imperija mode Gucci u kojoj neverovatno brzo napreduje.
Talented daughter of an architect and professor of art history, even during her studies at the Rome's Fashion Academy, worked hard as an assistant in a small fashion house. Her extraordinary creative energy exudes with forgotten fragile and gentle feminine style,  so that after a few years of working for a fashion house Fendi, her quality was recognized by the most powerful Italian fashion empire – Gucci –in which she progressing incredibly quickly.
Ona je vratila duh Gucci klasike 60tih kroz svoju originalnu, svežu i radosnu interpretaciju mode. "Nasledje Guccija mi je veoma važno – uvek se vraćam arhivama i starim crtežima, ali sa pogledom u buducnost", odlučna je Frida koja je svojim stavom i dizajnom oduševila modnu kritiku širom sveta, ali i Holivud gde njene kreacije važe za najtraženije na crvenom tepihu. Za 90 godišnjicu brenda otvorila je Gucci Museo,  u saradnji sa Fiatom kreirala GucciFiat500.
She returned to the spirit of Gucci classic 60's through her original, fresh and joyful interpretation of fashion. "We have a rich and storied past, but we always have an eye to the future, which these collaborations represent." decisivly declares Frida for Vogue.com talking about her views and the design that impressed the fashion critics around the world, and Hollywood, where her designs are the most wanted for red carpet. She opened Gucci Museo for Gucci's 90th Anniversary & in collaboration with Fiat created GucciFiat500.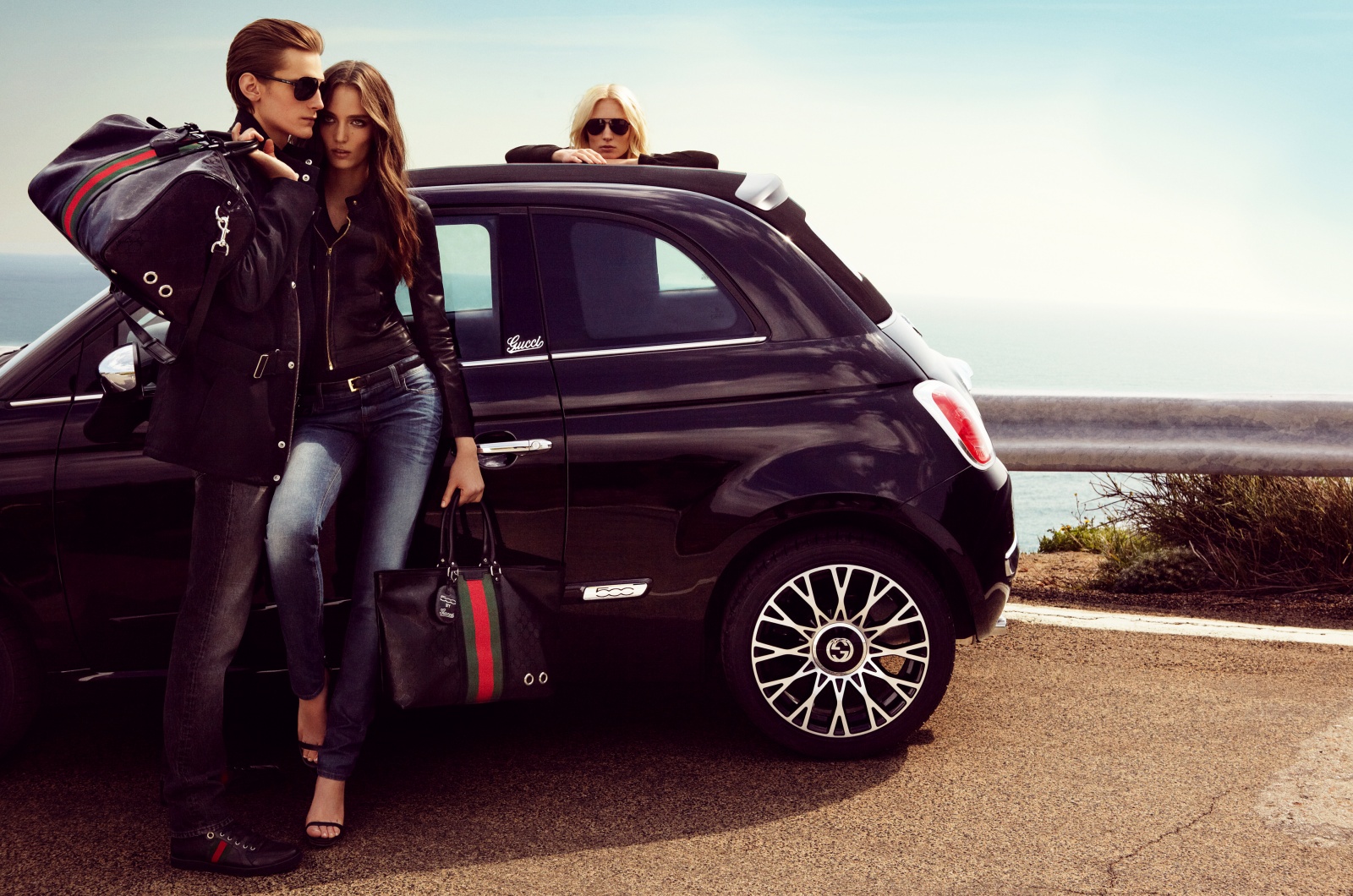 Za zatitna lica novih Gucci kampanja odabrala interesantne mlade glumce James Franco & Blake Lively.
She pick up young & talented actors Blake Lively & James Franco for the faces of new Gucci campaign.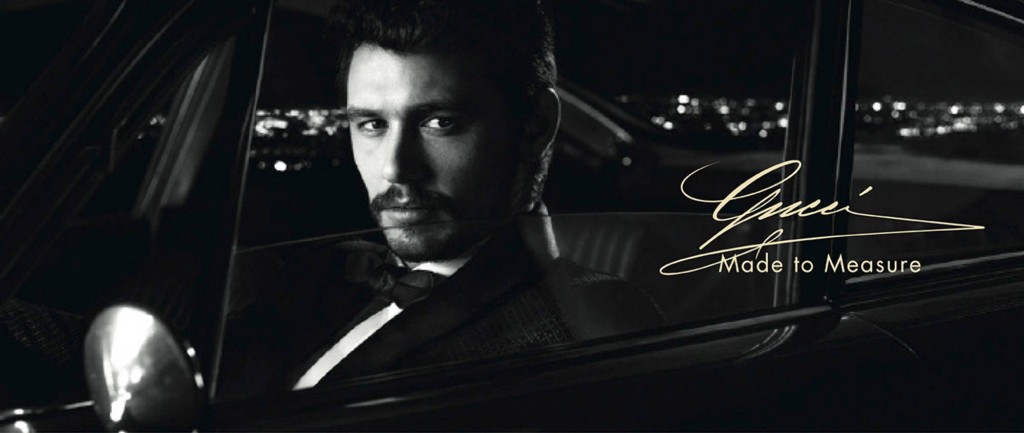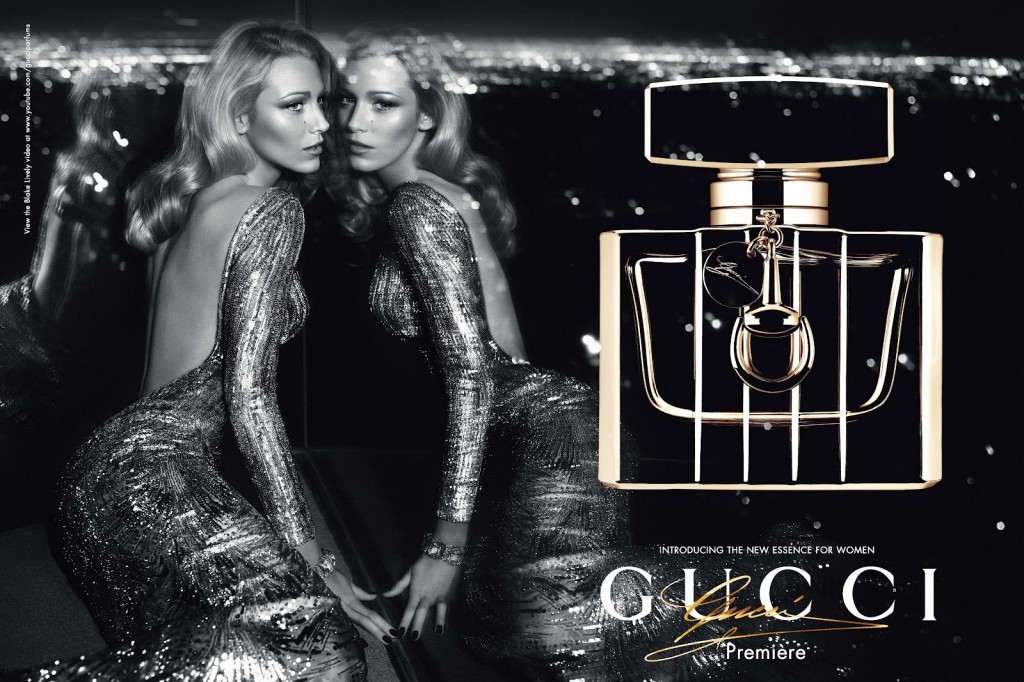 Posle Londona i Firence, 2009. Frida je odlučila da se vrati u svoj rodni grad. Nepokolebljiva  u svojoj viziji Gucci-ja pronašla je savršen dom za modnu kuću – istorijsko zdanje koje čuva svetlost i energiju večnog grada na sedam brda- čuvenu Rafaelovu palatu Alberini iz 16 veka . Kuća čija svečana atmosfera drevnog rima kao da priziva modne bogove koji daju nadahnuće celom dizajnerskom timu na čelu sa Fridom Gianinni.
After London and Florence, 2009. she decided to return to his hometown. Strong in her vision of Gucci, Frida found the perfect home for the fashion house – historic building that keeps the light and power of the eternal city of seven hills – famous Raphael palace Alberini built in the 16th century…Perfect house with ceremonial atmosphere of ancient Rome that evokes the fashion gods and inspire the entire design team, headed by Frida Gianinni.
Velika spratna visina i bledo lila površina zidova dekorisana reljefnim ornamentima u duhu Rimske klasike,  ističe u prvi plan lepotu restaurirane, pozlaćene drvene tavanice koja je uokvirena nizom renesansnih fresaka.
Radni prostor čine dve celine koje su delimično razdvojene zidom sa naglašenim klasičnim lukom iza koga je moderan crni sto za sastanke, čistih linija koji stoji na paru linearnih zlatnih obruča i u kombinaciji sa jednostavnnim mekim konturama stolica, posmatrača ostavlja bez daha!
Large story height and pale lilac surfaces of walls decorated with relief ornaments in the spirit of the Roman classics, highlights the forefront beauty restored and gold plated wooden ceiling, which is surrounded by a series of Renaissance frescoes.
The workspace is composed of two parts which are partly separated by a wall with accentuated classical arc, behind which is a modern black meeting table with clean lines,  which stands on a couple of linear gold rings. In combination with simple soft contours of the chairs –  this space leaves the viewer breathless!
Druga celina je radni deo koji je suptilno podeljen na ambijente interesantnim crnim i sivim  tepisima razlicitih dimenzija, u kontrastu sa sivo beličastim kamenom dijagonalno postavljenim na podu čitavog prostora.
U dubini prostora simetrično postavljeni prozori u nišama i površina zida izmedju njih predstavljaju savršenu podlogu za sjajnu komodu zagasite zlatne boje, koja u kompoziciji sa visokim ogledalom sa jedne i  elegantne cilindrične podne lampe sa druge strane uokviruje sliku prostora.
The second part is a working part that is subtly divided into ambiences with interesting different sizes black and gray carpets, in contrast to the gray-whitish stone which is diagonally placed on the floor of the entire room.
In the depths of space symmetrically placed windows in the niches and the wall surface between them are the ideal base for perfect commode in smoky gold shade, which in composition with a high mirror on one side and the elegant cylindrical floor lamp on the other side framed picture of the area.
Radni deo je savršen sto čija se površina pretvara u bočne strane koje iz sjajnog lakiranog drveta indijskog palisandera prelaze u zatamnjeni mesing, čuvena ikona dizajna OXFORD stolica svojim elegantnim oblikom prati i jasno definiše stil i licnost uspešne poslovne žene koja stoji iza ovog moćnog italijanskog brenda.
Working section is a perfect table whose surface flows gently to the sides, which from the shiny lacquered Indian rosewood exceeding to dark brass, the famous design icon – OXFORD chair – with its elegant shape follows and clearly defines the style and personality of the successful business woman that stands behind this powerful Italian brand.
U starom office-u svuda po zidovima bile su okačene skice i fotografije inspiracije. Iz poštovanja prema renesansnom okruzenju i dragocenim freskama bela "kreativna" tabla je pomerljivi element enterijera smešten iza stola dok se u kreativnim procesima nastajanja kolekcije postavlja  na slobodnu površinu poda.
In the old office all over the walls were hanging sketches and photos of inspiration. Out of respect to the environment and precious Renaissance frescoes white "creative panel"is moveable interior element placed behind the table and in the creative process of making-the-collection is placed on the free surface of the floor.
Naspram stola  je deo za neformalne sastanke, koji je neophodan u sklopu radnog dela. U zlatnom ogledalu deo plafona renesansnog neba prenosi se na površinu niskog sjajnog stola okruženog jednostavnim foteljama obučenim u moher – somot sive boje.
Opposite the the table is a part for informal meetings which is necessary as part of the working area. In the golden mirror part of the Renaissance sky ceiling is transferred to the surface of the low polished table surrounded by chairs simply dressed in a velvet gray mohair.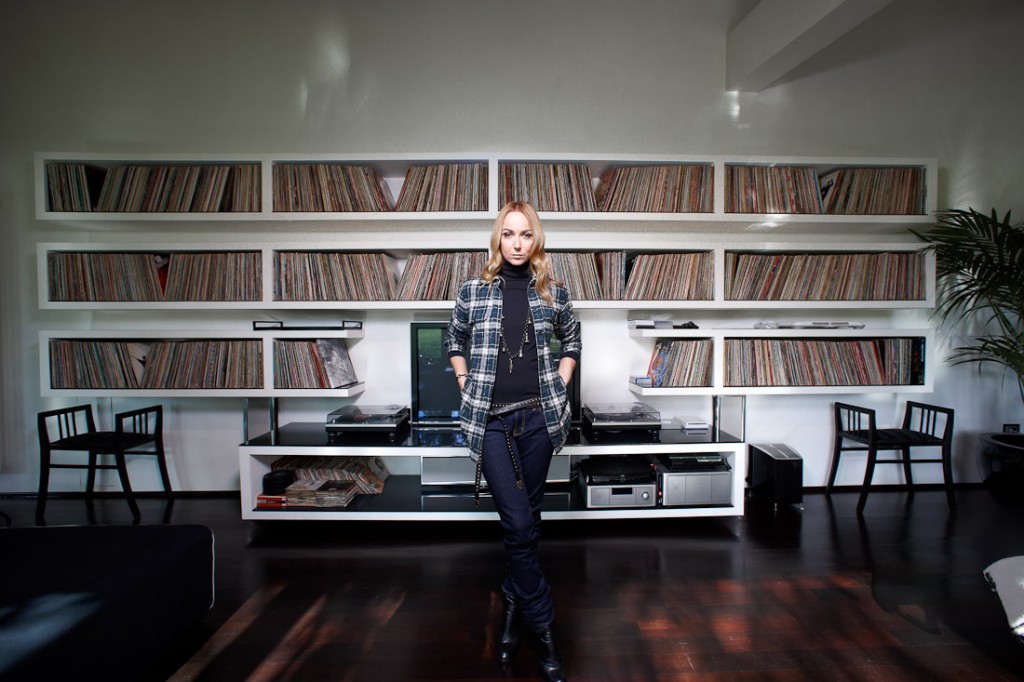 Savršeni sklad klasične arhitekture i modernih komada nameštaja pažljivo odabranih i ukopljenihu jedinstvenu celinu u kojoj je svaki element u prostoru, ali i sam prostor,  tretiran kao umetničko delo. spoj naizgled nespojivog savršeno oslikava duh ovog mocnog italijanskog brenda.
The perfect harmony of classical architecture and contemporary pieces of furniture carefully selected and blended into a single unit in which each element in the space, but the space was itself is treated as a work of art. Combination of a seemingly incompatible perfectly reflects the spirit of this powerful Italian brand.